We are constructing our home using
earth as the building material
. There are several ways of doing this but in the end poured earth was the method that we chose. The main reason being the small environmental footprint(initial and ongoing).
When building with poured earth the blocks are made in-situ. To be able to do this you need a set of molds to put your earth in. We purchased a poured earth construction kit from
Formblock
, an Australian company.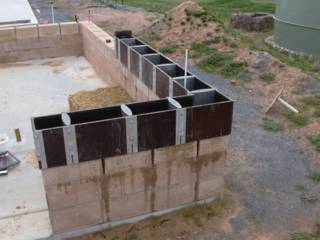 In the picture above we have assembled our 'formblocks' (a standard block measures 600x300x300mm), checked our levels, and are ready to proceed. The white conduit(pipe) is to allow electrical wiring within the walls. This particular one is a power point but the same principle applies for light switches, telephones, network cabling, etc.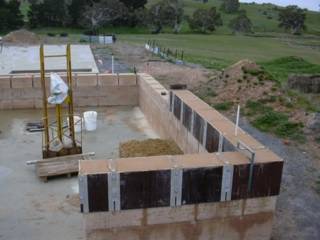 The earth mix is 8 parts soil, 1 part white cement, and approximately one part water. The molds are filled with this mix, tamped down, and left to set. We usually leave them to set overnight.
Then we dismantle the molds, clean them up, and are ready to repeat the process. The construction you can see is on the garage with the house's slab visible in the background. We thought it prudent to build the garage first so as to learn from any mistakes and then to not make them on the house.
Earth construction has quite a history
.